Explore our guide to the shortest online Post-Master's Doctor of Nursing Practice programs! We've analyzed dozens of programs to discover how many months they take, how many semesters you'll be studying, and the number of credits & clinical hours required. You may even want to explore hybrid options. Need more guidance? Have a look at our brief overview of how different MSN to DNP programs are structured.

Shortest Online MSN to DNP Programs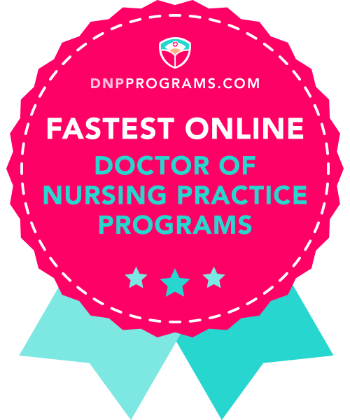 Shortest Hybrid MSN to DNP Programs
Are you willing to consider a few more trips to campus? In our research, we unearthed a number of Hybrid MSN to DNP programs that are still very quick! For the purposes of this guide, we've classified any program that exceeded a "once per semester" visit as hybrid/blended.
---
How Long Are Online DNP programs?
The length of an Online DNP program will depend on multiple factors:
The pathway you choose (e.g. BSN-DNP or MSN-DNP)
Whether you enroll part-time or full-time
Whether you're seeking a specialization and/or dual degree
Although some schools admit nurses with associate degrees (RN to DNP) or offer post-doctoral certificates for nurses switching specialties, there are 3 standard pathways:
1. Post-Master's DNP without APRN Specialty (MSN to DNP)
This is the shortest route. Post-master's DNPs in leadership or advanced practice are intended for MSN graduates who don't wish to purse APRN certification. They're a combo of advanced didactic coursework and classes needed to complete the DNP project. Standard part-time programs take 2-3 years; accelerated programs wrap up in just 1-2 years. These programs usually involve half the number of credits of a post-bachelor's DNP, putting them around 35-40 credits, including up to 500 clinical hours.
2. Post-Master's DNP with APRN Specialty (MSN to DNP)
Some post-master's programs will allow you to earn an APRN specialization that's different from what you explored in your MSN. Most post-master's DNPs with an APRN concentration have a clinical element that adds credits to the program. Therefore, some can be just as long as a post-bachelor's program — around 75 credits over 3-5 years.
3. Post-Bachelor's DNP (BSN to DNP)
Registered nurses who hold a BSN can expect to take 3-4 years to earn a DNP on a full-time schedule and 4-5 years if they attend part-time. Post-bachelor's DNP programs often frontload coursework in the specialization toward the first few years of the program—some even grant an MSN midway through. The exact number of credit hours depends on the specialty but is typically in the range of 75-80 units. This includes at least 1,000 clinical hours. Have a look at our rankings of the Fastest Online BSN to DNP Programs for more info.
What Are the Minimum DNP Program Requirements?
How Many Credits Are the Shortest MSN to DNP Programs?
An accelerated Online MSN to DNP program might be anywhere between 21-40 credits, depending on both program structure and the number of practicum hours you bring in from your MSN program. The average credit load for a fast post-master's DNP program is 33-35 credits.
As you'll see from our fastest MSN to DNP listings, the difference between a quick program and a standard one isn't credits—it's the structure of the plan of study. Faster DNPs might occasionally drop a course requirement, but they're always scheduled so that students can fit more into a single term.
Minimum Clinical Practice Hour Requirements
Clinical practice hours are activities that allow students to apply skills they've learned and master them in real-life settings. They're required to make sure nurses are qualified to work in patient-care settings.
1,000 Hours for Post-Baccalaureate Programs: To be accredited by the Commission on Collegiate Nursing Education (CCNE), a DNP program needs to include at least 1,000 hours of post-baccalaureate practice. CCNE allows schools with post-master's DNP programs to calculate how many credits students have left based on how many they entered with.
500 Hours for MSN to DNP Programs: Since a master's level NP program includes at least 500 clinical hours, that means students coming in with an MSN will usually need—at most—500 hours to complete a doctorate. At the post-master's level, most of these hours count toward a final DNP project. The fastest post-master's DNP programs often have 300-500 hours, with an average of around 450. Many of the shortest programs avoid APRN specializations, which can add practicum requirements.
You'll also need to consider commute time to practicum sites. You can complete your MSN to DNP practicums in one of two ways:
Find Your Own Sites: This can be often be your workplace as long as you're in a different role at the hospital and aren't getting paid.
Use School-Selected Sites: In some cases, you'll be able to choose practicum sites arranged by the school.
Example of an Accelerated 1-Year Online MSN to DNP Program
Let's be realistic—it's only possible to finish up a DNP program in under two years if you're starting with credits under your belt and are willing to take a full credit load on a year-round basis. Here are a few things to expect from an accelerated Online Post-Master's DNP:
You'll be required to come in with an MSN and, quite likely, certification as an advanced practice registered nurse (e.g. CNS, NP, CNM, CRNA), nurse administrator/executive, or nurse educator.
You'll sign up to be a full-time student or even take a bit above a full credit load. That can mean taking time off from work or altering your schedule significantly.
You may have to take classes or clinicals during the summer semester.
There's no room for APRN specializations. If you want to continue along with a specialization, it means more credits and more time.
Here's what that might look like in terms of a course plan:
Semester 1 (Fall)
You'll start with at least 9 credits from didactic courses. That translates to—at minimum—3 courses. Expect to start working on your DNP project right away. If only 40 or 50 hours are mandated at this point, you'll be loaded up with clinical hours later. More equitable distribution is 120 hours or about three weeks of full-time work. Once you combine courses and clinicals, you're looking at 10 credits or more total this term.
Semester 2 (Spring)
Programs often ramp up in one of two ways during the second term: with another didactic course or more clinical hours toward your project. A balanced degree will have 3 or 4 didactic courses and 120-150 hours toward the DNP project.
Semester 3 (Summer or Fall)
Didactic coursework gets cut back to 1 or 2 classes in the third semester. Instead of attending class, you can spend as much as 240 clinical hours finishing up your DNP project, meaning you're still probably taking more than 10 credits. 4-semester programs usually have a low-key summer or fall, giving students a breather toward the end.
In all, you're looking at 6-12 courses throughout the program plus a standard 500 clinical hours. Most of those hours are split across three DNP project sessions—one per term—but sometimes a few are dedicated to another practicum. In the case of online programs, especially those with block scheduling, most schools are quite flexible about when clinical hours occur.