Get the inside scoop on the 25 Best DNP programs in the country! Each entry has a summary of the School of Nursing's reputation, a list of BSN to DNP and Post-Master's DNP specialties, and details on curricula & admissions. To help you make a decision, we also dug into hybrid & online DNP programs to discover how much time will be spent on campus visits. Skim through the methodology or skip ahead to the rankings.
Best DNP Programs Overview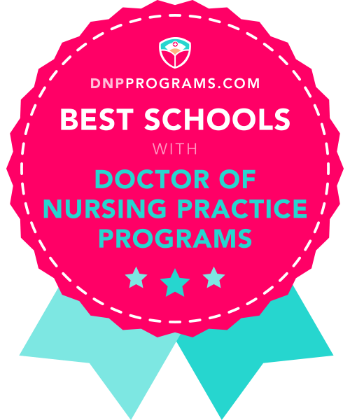 The top 25 schools in our Best DNP rankings had to beat out tough competition to make it into our list. Here are the factors we considered when choosing the best Doctor of Nursing Practice programs in the country:
First-Time APRN Pass Rates: We looked at average certification pass rates to see how well each school prepared graduates for exams. To receive a boost, a School of Nursing needed to achieve a 96%+ pass rate on the first try.
Student Completion Rates: Although many schools in our Best DNP rankings are Tier 1 research universities, we wanted to reward those that have trained nurses for active roles. Schools with a lot of graduates who ended up in practice (clinical & leadership) earned brownie points.
Graduation Rates: It's possible to create a lot of graduates even while leaving struggling students behind. To ensure Schools of Nursing were actually shepherding DNP students to the end of the program, we gave an extra boost to schools with graduation rates above 96%.
Employment Rates: We examined post-graduation employment rates and gave a rankings boost to any school that had a 96%+ average. This factor is new to 2022!
Average Indebtedness: To ensure nurses wouldn't be left with a massive financial burden, we evaluated debt numbers for DNP graduates. This factor is also new to 2022.
U.S. News & World Report DNP Rankings: Any Doctor of Nursing Practice that appeared in the top 10 of U.S. News and World Report's rankings for Best DNP programs received a boost.
Note: If price is the most important factor in your decision, check out our latest rankings of the Most Affordable Online DNP programs.
2022 Rankings Overview: What Changed
Our Best DNP rankings experienced a considerable shake-up after we added two new factors to our ranking algorithm—average indebtedness and employment rates.
Rush and UIC held onto their #1 and #2 spots, but Columbia—with its strong employment rate—surged into the #3 position.
Affordable schools with reasonable debt numbers (e.g. University of Kentucky and Frontier Nursing University) were able to leapfrog into the top 5 for the first time.
Solid schools in the middle section of the rankings haven't seen much change from 2021 to 2022. UAB, JHU, Vanderbilt, Pitt—the gang is all here!
But you'll discover a host of new names in the #15-#25 spots. Some have excelled in APRN certification pass rates & graduation rates; others can boast of high employment rates. Every one has something unique to offer the DNP student.
Top Schools with Doctor of Nursing Practice Programs