Respected, accredited, and budget-friendly—this list of the 30 most affordable online DNP programs in the country is designed to give you the best bang for your buck. Use it to compare private & public universities, online & hybrid programs, and scholarships & financial aid opportunities. We've even highlighted hidden costs! Skim through the methodology or skip ahead to the rankings.
Cheapest DNP Overview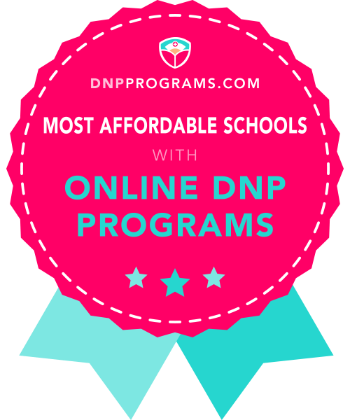 To find the 30 cheapest online DNP programs in the U.S., we examined IPEDS data from the National Center for Education Statistics (NCES). IPEDS tracks the average cost of graduate programs.
Evaluating IPEDS data gave us a shortlist of 66 public & private universities with accredited online DNP programs and reasonable prices.
To determine the actual cost of the DNP, we examined each school's tuition section and DNP program page. This research gave us a much more accurate picture of total credits and current rates.
We were then able to winnow our shortlist down to the top 30 most affordable schools with an online or hybrid DNP.
How We Calculated the Cheapest Price
The price for online DNP programs at private universities is fairly straightforward (tuition rate x number of credits). Public universities are trickier. Some schools have a standard online tuition rate for the doctorate, regardless of residency. Others have radically different tuition rates for in-state and out-of-state students.
If special online tuition rates weren't listed, we used the cheapest out-of-state tuition rate as our benchmark for public universities. We also included any mandatory per credit fees and/or surcharges in our affordable rankings. But the final bill will depend on your situation!
In-State: If you live in the state where the public university is located, you could end up paying a much lower tuition rate. (And it may be why you don't see a popular regional school in our rankings.) See our individual state guides for rankings of affordable in-state programs.
Neighboring State: If you live in a neighboring/contiguous state, you may qualify for reduced tuition at a public university thanks to partnering programs.
It's also important to note that we used the Post-Master's DNP with the fewest number of credits for our calculation. If you're considering APRN specialties and/or BSN to DNP programs with lots of credits, your bill will be higher and may come with associated course costs.
2022 Rankings Overview: What Changed
Most of the universities that appeared in our previous lists held their ground in our 2022 affordable rankings. For example:
The top 6 schools are the same, just in a different order.
These tend to be lesser known state universities with low-cost tuition rates for all online students.
You'll be able to pay under $15,000 for a Post-Master's DNP.
But we also added 12 newcomers to the list! Once you start exploring the middle section, you'll find a number of intriguing public options (e.g. University of Louisiana at Lafayette) and private options (e.g. Colorado Christian and Morningside) sitting alongside the usual suspects. Some of the newbies are ACEN-accredited. Others are best-suited to regional students (e.g. University of Massachusetts-Lowell).
Overall, prices didn't jump a great deal—many Online MSN to DNP programs have a minimum price of less than $22,000. However, we're still spotting a fair amount of DNP programs with extraneous fees. You may be on the hook for a mandatory DNP per credit fee, a nursing program fee, or sizeable per semester fees (e.g. Murray State, Wichita State, USA, Valpo, etc.).
30 Most Affordable Online Doctor of Nursing Practice Programs