Like many ambitious BSN graduates, you may be weighing up whether to pursue an MSN or a DNP. If you're eyeing a Doctor of Nursing Practice after your bachelor's degree, we take a close look at what awaits you. Ready to enroll? Skip ahead to our Best Online BSN to DNP Rankings or browse through our state-by-state listings of Online and Campus-Based BSN to DNP programs.
Best Online BSN to DNP Overview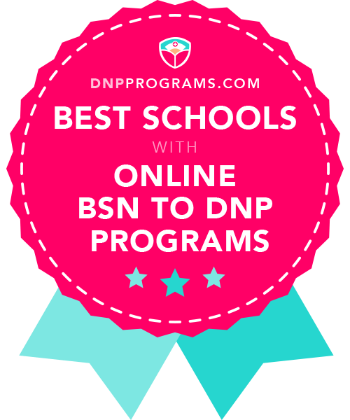 Discover the 19 Best Online BSN to DNP Programs in the country! Each ranking has details on admissions criteria, NP & leadership specialties, curricula, on-campus requirements, and availability. You can make an informed decision in no time. Here are a few things to bear in mind as you explore your options:
Online BSN to DNP Specialties: We've primarily focused on specialties that are available online. Some schools will offer additional on-campus concentrations, especially in the field of Nurse Anesthesia. If you live near one of these universities, you may have more options!
State Authorization: Considering an out-of-state BSN to DNP for the purposes of APRN certification & state licensure? Visit the school's State Authorization page (we've included links); check with your State Board of Nursing (BON); and confirm with the DNP program coordinator that you're eligible to apply.
Campus Visits: All Online BSN to DNP programs in APRN specialties are going to have campus components—they're necessary for clinical training. To ensure that programs are convenient for working nurses who might live out-of-state, we had a "once per semester" threshold for our rankings. If you were required to visit the campus more often than that, the school & program were relegated to our list of Honorary Mentions.
Online Delivery & COVID-19: Online BSN to DNP programs are adapting to the new reality by turning some of their on-campus requirements into virtual ones (e.g. DNP project presentations). Some of these changes may become permanent—visit the program homepage for up-to-date details.
Online BSN to DNP Rankings Methodology
To come up with our list of the Best Online BSN to DNP Programs in the country, we deployed some of the same factors as Best DNP Programs rankings. That means we examined the following benchmarks:
DNP completion rates, especially programs that focused on practice & not research.
First-time APRN pass rates—any program with 96%+ rate received an added boost.
Strong U.S. News & World Report placements for MSN and DNP programs.
Employment rate one year after DNP graduation—any program with a 96%+ employment rate got a boost.
Average indebtedness of graduates who incurred DNP nursing debt—that means schools with low debt outcomes can sit alongside high-profile & high-cost universities.
2022 Rankings Overview: What Changed
To help you expand your search, we increased our rankings of the Best Online BSN to DNP Programs to 19 schools in 2022.
 It's heartening to note that the top 10 schools continued to hold their ground from 2021 to 2022. Rush, Frontier, UAB, and Johns Hopkins—these are strong names with strong nursing reputations.
Rush secured the #1 spot thanks to excellent APRN pass rates and top-of-the-line rankings, but Frontier is a worthy and affordable contender with low debt rates.
The real shake-up occurred in the second half of the rankings. There are a number of new arrivals in the 2022 list, including schools like UAH, SHU, Michigan State, Detroit Mercy, UI, OSU, and UWM.
Thanks to solid (if not spectacular) benchmarks, University of Cincinnati even managed to crack the top 10! Better yet, it offers a number of online NP specialties with limited campus visits.
Top Schools with Online BSN to DNP Programs
Honorary Hybrid BSN to DNP Mentions
In our comprehensive rankings, we excluded a number of great hybrid BSN to DNP programs that exceeded our "once per semester" requirement. However, if you're in the local area, you could also consider the following options:
Columbia University | New York City, NY
University of Washington-Seattle | Seattle, WA
Universiy of Illinois at Chicago | Chicago, IL
Vanderbilt University
University of Maryland-Baltimore | Baltimore, MD
Case Western Reserve University | Cleveland, OH
University of Minnesota-Twin Cities | Minneapolis, MN
Virginia Commonwealth University | Richmond, VA
Oregon Health & Science University | Portland, OR
The University of Texas Health Science Center at Houston | Houston, TX
Washington State University | Pullman, WA
Arizona State University | Phoenix, AZ
University of South Florida | Tampa, FL
University of Miami | Miami, FL
University of San Diego | San Diego, CA
Augusta University | Augusta, GA
Florida International University | Miami, FL
University of Michigan-Ann Arbor | Ann Arbor, MI
Villanova University | Villanova, PA
Louisiana State University Health Sciences Center | New Orleans, LA
Quinnipiac University | Hamden, CT
Fairfield University | Fairfield, CT
New York University | New York City, NY
South Dakota State University | Brookings, SD
University of Massachusetts-Boston | Boston, MA
University of Wisconsin-Eau Claire | Eau Claire, WI
Western Kentucky University | Bowling Green, KY
University of Hawaiʻi at Mānoa | Honolulu, HI
Saint John Fisher College | Pittsford, NY
University of Utah | Salt Lake City, UT
University of Kentucky | Lexington, KY
University of North Carolina at Greensboro | Greensboro, NC
---
Preparing for a DNP During Your BSN
How to Improve Your Chances of Acceptance
One of the major goals of a DNP program is to prepare nurses to become expert practitioners and nursing leaders within their workplace (see our FAQ section for more info). That means committees are looking for DNP candidates who have cultivated these skills during their undergraduate years. To gain real-world experience in an academic setting, you may wish to:
Become an active member of a national nursing organization
Pursue beginner nursing certifications
Seize opportunities to display your leadership skills (e.g mentoring younger students)
Engage in evidence-based practice projects
Apply for traineeships/internships
Recommended Undergraduate Courses
Statistics (highly recommended)
Research skills
Health assessment
Community nursing
Anatomy & physiology
Pharmacology
Microbiology
Chemistry
Pathophysiology
What You Can Expect in a Post-BSN Program
Typical Admission Requirements
Degree: BSN from a program with nursing accreditation (CCNE or ACEN)
GRE/GMAT: Often optional, but schools may wish to see your test scores as part of the application process. For example, one program requires a score of 5oo or higher on the verbal & quantitative sections (old GRE) and a minimum of 153 in the verbal & 144 in the quantitative (new GRE).
GPA: Usually > 3.0-3.5 on a 4.0 scale.
RN License: Schools may ask for your license to be in the same state as the university. So if you're from Florida and applying to a Georgia school, you could need an RN license from Georgia. Check with your program if you are in any doubt.
Letters of Recommendation: Schools may request that one of these letters be from an APRN. That's why working for a few years before entering the program could help with your application.
Experience: Experience requirements vary widely from program to program. Some schools demand you have 2 years or more of full-time RN experience; some don't have any stipulations. To be eligible for the DNP in Nurse Anesthesia, for example, you must have spent one year in a critical care setting. There are also schools that allow you to obtain your clinical experience at the same time as you're taking graduate core courses or prerequisites. We cover the experience debate in more depth below.
Typical Program Components
Length: 3-4 full-time years (~75-90 credit hours). For nurses juggling a regular job, childcare, and a part-time degree, this can stretch into a lot of time!
Courses: Depends on the focus of the degree (e.g. Adult Care vs. Midwifery). Classes should cover AACN competencies (e.g. scientific underpinnings for practice, clinical scholarship and analytical methods, healthcare policy, etc.).
Clinical Practice: 1,000 hours for post-BSN programs. This number is not set in stone, but it's what the AACN recommends. Inexperienced RNs should get as much clinical practice experience as they can to improve employment prospects.
DNP Capstone Project: DNP students must complete an evidence-based capstone project focused on the application and assessment of a healthcare topic in a community or patient practice.
Certification/Licensure Preparation: Just like MSN programs, the DNP prepares APRN candidates to sit for national certification exams and apply for state licensure.
Note: To accommodate busy professionals, some DNP programs offer students an option to exit with a MSN after they complete the first few years of the degree. Although you won't earn a doctorate, you will still be eligible to take national certification exams.
Do You Need Clinical Experience?
Clinical Experience vs. No Experience
Many nursing students wonder if they need a lot of real-world clinical experience in order to apply to a DNP. The short answer is no – some DNP programs accept BSN graduates with no experience whatsoever. In your program, your classmates may be a mix of case-hardened RNs, fresh-faced BSN graduates, and nurses who have worked in a variety of healthcare roles such as administration or education. Regardless of experience levels, you will all have to pass APRN certification and licensure exams at the end of your DNP.
However, it's a no-brainer to say you can learn a lot from working as an RN before you pursue a doctorate. For example, a nurse in a rural ER will be exposed to a vast range of healthcare issues that he or she may wish to study in a DNP. What's more:
Because they're trying to cover a lot of ground, undergraduate programs don't always prepare you for real-world situations.
Some DNP teachers will assume a certain amount of background knowledge. Those without clinical experience may struggle to keep up.
The DNP curriculum may be geared towards nurses who can apply their capstone project to their current workplace.
Ask your program to explain how NP candidates with no significant work experience deal with the capstone project and clinical practice requirements. For instance, instead of applying the project to a workplace setting, some students choose to conduct small-scale studies in their local area or school district.
Options for Gaining Clinical Experience
Don't reject a DNP just because you don't have clinical experience. There are many creative ways you can combine work and education.
Enroll in a DNP that doesn't have RN requirements and accrue clinical practice hours during the course of your degree.
Find work and pursue a DNP on a part-time basis. This will add years to your degree, but you will also be earning money to pay for fees and living expenses.
Find part-time work and pursue a DNP on a full-time basis. This is an extremely tough challenge.
Find work, earn enough money to pay for your degree, and then take the full-time DNP.
Find work, enroll in a part-time DNP, and then switch to a full-time degree a few years later. Be aware that you run the risk of alienating your employers if you leave them after a short time period.
How Online BSN to DNP Programs Work
You've earned a BSN. You're eyeing a doctorate. And you're seriously considering an online BSN to DNP pathway. We're here to help! Use our advice section to decide if the benefits of distance learning outweigh the downsides. Or skip ahead to the online BSN to DNP program listings to begin comparing schools.
Online BSN to DNP Program Structure
We'll tell it to you straight—many online BSN to DNP programs are technically hybrid. You will almost always be expected to attend intensives, orientations and/or classes on campus. In addition, DNP students usually defend the results of their capstone work in-person. Overall, online BSN to DNP programs that deal with indirect care (e.g. healthcare administration) tend to have fewer campus requirements than direct care programs (e.g. APRN specialties).
Because of your budget, it may be tempting to choose a degree with the least amount of time on campus. However, it's worth remembering that in-person visits will give you opportunities to:
Practice: You'll be able to work in high-tech simulation labs & practice situations alongside expert instructors. This kind of experience can pay off in a job interview.
Research: At a well-funded university, you can take advantage of research facilities & labs, talk to researchers in other fields, and address thorny capstone project challenges.
Network: Many Schools of Nursing are affiliated with big university hospitals. You may be able to arrange clinical hours in school-run clinics or top-notch facilities.
Online BSN to DNP Tuition Prices
Generally speaking, online BSN to DNP programs tend to be cheaper than on-campus alternatives. You'll often see this if you're comparing prices for non-clinical specialties (e.g. healthcare administration). But it's not a hard-and-fast rule. DNP programs in APRN specialties require a fair amount of overhead (e.g. financing simulation labs, hiring experienced clinical instructors, etc.). Once you've done the math, the cost for an online BSN to DNP may end up being about the same as an on-campus program.
There are other factors involved as well. A private university with a kick-ass reputation (e.g. Rush University) may be more expensive than a smaller university that specializes in online delivery (e.g. Union). Public universities may charge in-state and out-of-state students different tuition rates, even for online doctorates (e.g. ASU). One way to tackle the challenge is to make a shortlist of 4-5 options in our online BSN to DNP program listings and use a spreadsheet to compare per credit tuition and fees. This means you're not just focused on price—you're also considering quality and relevance.
How Long are Online BSN to DNP Programs?
If you study on a full-time basis, you could finish an online BSN to DNP in as little as 2.5-3 years. However, this is a turbo-charged example! DNP programs in APRN disciplines (e.g. FNP, PMHNP, CRNA, etc.) tend to have more credits and clinical hours than non-APRN programs. So you might be looking at 3-4 years. What's more, online BSN to DNP programs are frequently tailored to working RNs. On a part-time schedule, you could find your studies stretch into 5-8 years.
Admissions Requirements
CCNE- and ACEN-accredited Schools of Nursing have to maintain a certain standard of quality. That means admissions requirements for online BSN to DNP programs are usually no different than requirements for traditional BSN to DNP programs (e.g. 3.0+ GPA, BSN from an accredited school, etc.).
Use the links & descriptions in our online BSN to DNP program listings to get a sense of the baseline requirements. If your GPA is low, talk to the program advisor. You may be able to prove your worth with relevant work experience, a personal essay, and/or exam scores. If you don't have a lot of experience, you can always use your résumé to highlight work that involved leadership and hands-on training (e.g. volunteering at a clinic, running a project, etc.).
Asynchronous vs. Synchronous
You'll see these terms bandied about in online BSN to DNP descriptions. It's important to know how much synchronous coursework is required, because you'll have to watch your calendar carefully.
Asynchronous: You can complete the coursework on your own time (e.g. viewing a prerecorded lecture and following it up with reading & assessments).
Synchronous: Coursework takes place in real-time and you'll be expected to log-in on certain days/hours (e.g. interacting with students & professors in a virtual discussion group).
Cohort-Based vs. Choose Your Own Schedule
To keep students focused and on-track, some universities use a cohort-based model for their online BSN to DNP offerings. You enter the program with a group of fellow students and you stick together throughout the whole degree—same schedule, same classes, same progression. This builds a real sense of camaraderie and support. You'll always have someone to talk to about coursework!
Other universities will allow you to take DNP courses where and when you can. You could choose to take three online courses in one semester, and only one in the next. This online BSN to DNP model often works well for students who want a part-time option that fits their lifestyle (e.g. more classes in summer).
Online BSN to DNP Specialties
What Online BSN to DNP Specialties are Available?
Online BSN to DNP programs are available in traditional advanced nursing specialties (clinical and non-clinical) and budding fields (e.g. informatics, public health, etc.). You could even choose a dual concentration! Each of the following specialty pages contains curriculum details, certification requirements, examples of capstone projects, and program listings.
Nurse Practitioner Specialties

Online BSN to DNP programs in FNP, AGNP, and PMHNP are the most common specialties in distance learning. You could also consider combos (e.g. FNP/AGNP or FNP/PMHNP) for greater flexibility. If you're interested in online BSN to DNP programs that deal with acute care (e.g. AC PNP or NNP), check the admissions section. Schools are usually looking for specific work experiences (e.g. NICU experience for the NNP). Whatever specialty you opt for, make sure it includes all the necessary clinical hours required for NP certification.
APRN Specialties
These are high-level clinical fields, so universities often offer these specialties in blended/hybrid programs with a fair amount of campus time. Before applying, aspiring CRNAs will need to have critical care experience; some schools may want extra proof of your expertise, including ICU hours, the CCRN, and critical care certifications.
Clinical Nurse Specialist
They do exist! The vast majority of online BSN to DNP programs in CNS specialties focus on adult health. These are designed to prepare you for AGCNS-BC certification from the ANCC. Thanks to their leadership focus, CNS programs may be predominantly online, with clinical hours completed in your home community. Check the curriculum to see if you're required to visit campus.
Leadership & Teaching Specialties
As we mentioned, these tend to be the most flexible online programs (i.e. minimal time on campus). Online BSN to DNP programs in leadership come in plenty of intriguing flavors (e.g. healthcare systems administration, community systems administration, executive leadership, practice & leadership innovations, etc.). You can really tailor the degree to your job requirements. Online BSN to DNP programs in nursing education are rare. Most universities reserve these DNP programs for MSN graduates.
Online BSN to DNP Curriculum
Didactic Coursework
Online BSN to DNP programs typically start off like MSN programs. You'll begin by tackling credits in high-level topics (e.g. advanced practice role, leadership, healthcare finance, etc.) and subjects required for certification (e.g. advanced pathophysiology, pharmacology, health assessment, etc.). As you go on, you'll focus more on courses in your chosen specialty (e.g. pediatrics). Much of this BSN to DNP coursework can be completed online. However, some universities like to bring students to campus for simulations and hands-on training, especially in areas like health assessment.
Clinical Hours & Residencies
The standard for BSN to DNP programs is 1,000+ clinical hours, regardless of the format. If you are pursuing national certification as an APRN, be sure there are enough clinical hours in your chosen specialty to meet certification exam requirements. To make things easy, most schools will allow online BSN to DNP students to complete clinical hours in their own communities. Ask the program advisor if you'll receive any help in arranging clinical placements.
Capstone Projects
Capstone projects usually involve close collaboration with a faculty member. So you may be taking trips to the School of Nursing for research seminars, check-in meetings, and project presentations. It's also a good idea to learn how online BSN to DNP students collaborate with their mentors—is it primarily email? video chats? phone calls? Are you going to feel comfortable interacting in this way when you're working on a large research project?
No GRE BSN to DNP Programs Offered Online
No GRE vs. GRE
If you're an experienced RN, the thought of an expensive exam may be less than appealing! Fortunately, our online BSN to DNP programs with no GRE requirement page lists dozens of programs that don't expect you to have GRE scores when you apply. Examples of universities with a "No GRE" policy include:
Creighton University
Maryville University
Nebraska Methodist College of Nursing & Allied Health
There are pros & cons to this approach:
GRE: If you choose a school that requires the GRE, you'll know that students in the online DNP are committed to their learning. Everyone is coming into class with a certain academic baseline.
No GRE: The GRE isn't really a good barometer for clinical expertise and hands-on knowledge. That's why well-regarded schools like UVA have done away with the requirement. Instead, admissions committees want to see strong letters of recommendation, relevant work experience, and great résumés.
Optional GRE
Keep in mind, too, that some schools have an "Optional GRE" policy:
If you don't have a lot of work & life experience, good GRE scores may give you a boost when the admissions committee compares you to applicants with similar qualifications.
Some schools will waive the GRE requirement for online BSN to DNP candidates with great GPAs (e.g. 3.5 or above)
Students who have low GPAs (e.g. 3.0 or below) may be able to voluntarily submit GRE scores to show their academic potential.
Head over to our No GRE BSN-BSN Programs guide for more advice and a comprehensive list of programs.
How to Choose an Online BSN to DNP Program
Determine Your Focus
An online BSN to DNP is a huge commitment, both in terms of time and money, so it's worth doing some soul-searching before you apply.
Long-Term Goals: In ten years, do you want a career in clinical work, nursing education, or management & administration? If you are thinking about the last two paths, will you have enough clinical experience at the end of the online DNP to feel comfortable applying for a job?
Research Interests: What sub-specialties & research topics are you interested in? What do you want to work on for your capstone project? When you know this, you can match your interests to a School of Nursing (e.g. Frontier Nursing University and rural healthcare).
Online vs. On-Campus: Would you rather earn an on-campus BSN to DNP from a local state university with an okay reputation in nursing or an online BSN to DNP from a private university with an excellent reputation and higher tuition costs. There's no right answer here.
Creative Career Building: Is there a way you can maximize your investment? Will an online BSN to DNP program allow you to exit with an MSN? Do you want to a pursue a dual degree (e.g. FNP/PMHNP) to improve your employment options?
Check with the State Board of Nursing
This is a standard rule of thumb for any online graduate program in nursing. Because of licensing regulations, some State Boards have restrictions or special requirements when it comes to distance education. If you're pursuing advanced practice licensure, make sure your online BSN to DNP has been approved by the state.
You should also check with the School of Nursing before you submit your application (and pay the application fee). Some schools simply won't offer online BSN to DNP programs to students from certain states.
Assess the Online Format
Every hybrid or online BSN to DNP program is going to have a different feel. Some universities put a lot of money into virtual classrooms and online learning tools; others rely on basic frameworks and email. To avoid disappointment, ask the school if you can monitor an online class or view a course demo. Talk to alumni through LinkedIn or nursing messageboards to learn about the pros & cons of the online program.
And think about schedule realities. How much of the coursework is asynchronous or synchronous? Do you have the hours to participate in a lot of video chats and lectures? Are you ready to tackle the lengthy reading requirements? And how often will you be expected to visit campus?
Budget for Online Costs
Universities like to promise that you'll save big on a distance learning degree, but online BSN to DNP programs come with some hidden costs that we want to highlight:
Trips to Campus: As we mentioned, most online BSN to DNP programs require some in-person visits. You'll have to decide how much you're willing to pay for car/plane travel, accommodation, food, and living expenses while you're taking part in these experiences. Ask if the School of Nursing provides subsidized housing.
Equipment Expenses: For example, online BSN to DNP students may be expected to have high-speed Internet, a computer capable of handling video downloads, online course software, a printer, webcam, and common programs like MS Office.
University Fees: A number of universities charge DNP students a distance learning fee. And even though you're not on campus, you may be expected to pony up for other fees. Read the fine print in the tuition section. These costs can really add up.
Related Expenses: Think of expenses such as student liability insurance, exam fees, CPR certification, and the like. You'll also have expenses related to clinical hours (e.g. commuting costs).
Finally, to help you avoid the spectre of massive debt, we've put together an entire section on Paying for the DNP.
List of All BSN to DNP Programs
250 schools
Skip to State
BSN to DNP Programs in Alabama
BSN to DNP Programs in Arizona
BSN to DNP Programs in Arkansas
BSN to DNP Programs in California
BSN to DNP Programs in Colorado
BSN to DNP Programs in Connecticut
BSN to DNP Programs in District of Columbia
BSN to DNP Programs in Florida
BSN to DNP Programs in Georgia
BSN to DNP Programs in Hawaii
BSN to DNP Programs in Idaho
BSN to DNP Programs in Illinois
BSN to DNP Programs in Indiana
BSN to DNP Programs in Iowa
BSN to DNP Programs in Kansas
BSN to DNP Programs in Kentucky
BSN to DNP Programs in Louisiana
BSN to DNP Programs in Maryland
BSN to DNP Programs in Massachusetts
BSN to DNP Programs in Michigan
BSN to DNP Programs in Minnesota
BSN to DNP Programs in Mississippi
BSN to DNP Programs in Missouri
BSN to DNP Programs in Montana
BSN to DNP Programs in Nebraska
BSN to DNP Programs in Nevada
BSN to DNP Programs in New Hampshire
BSN to DNP Programs in New Jersey
BSN to DNP Programs in New Mexico
BSN to DNP Programs in New York
BSN to DNP Programs in North Carolina
BSN to DNP Programs in North Dakota